Your Christmas in 4 Trays
1880 presents its NEW PRODUCTS 2015-2016. Assortments of Nougats, specialties, marzipans and chocolates of high quality. They are perfect for eating or give away. An innovative launch!
The trays 1880 are composed by:
1. 1880 Collection: selection of 8 different types of products such as the Nougats, Christmas sweets and chocolates. Almond Brittle nougats, Almond Caramel nougats, Nougat bonbons, Milk Candy bonbons, Bombonias, Almond Delights & Chocolate Mini Puff pastries.
2 Marzipan Selection 1880; composed by Marzipan Figurines, Marzipan covered with Almonds, Almond sponge Cakes & Egg Yolk Portions.
3. Christmas Sweets Selection 1880  composed by Mini Puff pastries, Almond Crumble Cakes, Almond Delights and mini Almond Crumble Cakes.
4 Chocolates Selection 1880: composed by Milk Chocolate Almonds mini rounds, Bombonias, Nougat Bonbons, Milk Candy Bonbons & Hazelnut Mini pralines.
The selection of the composition and presentation of these new trays becomes a product unique and different from all those who exist in the market. All products are individually packaged and presented in a personalized tray, READY TO USE, facilitating the handling and storage of products.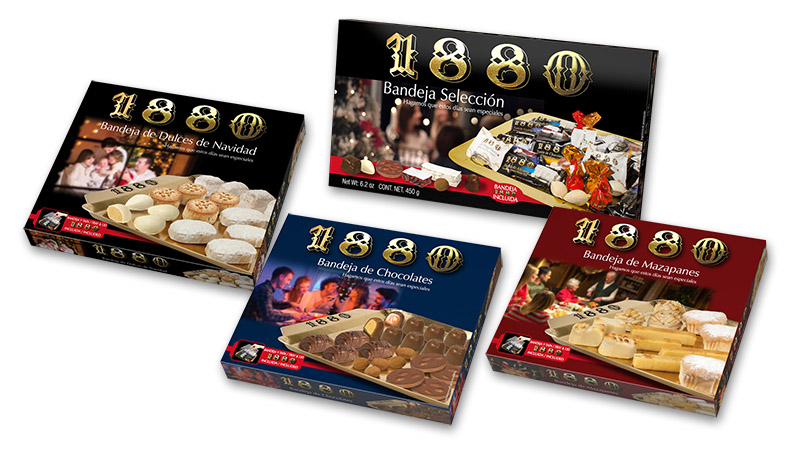 MAKE THESE DAYS SPECIAL